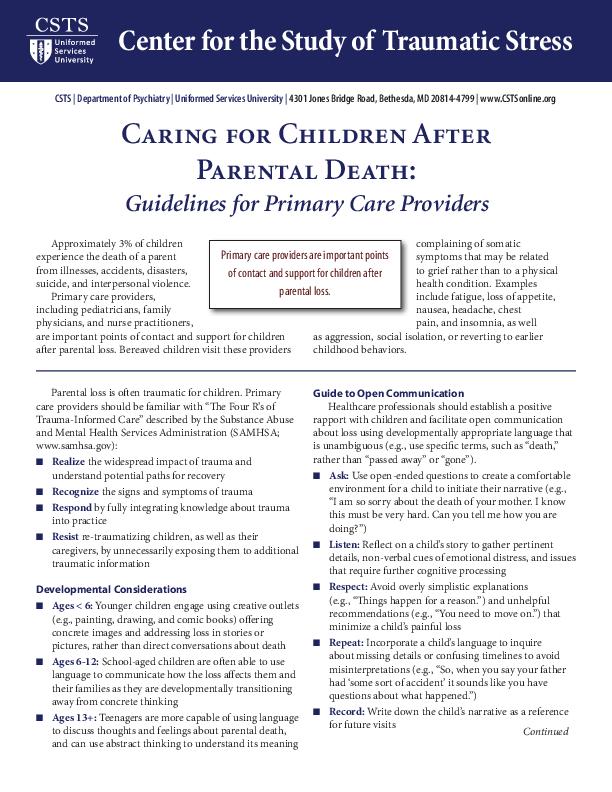 Caring for Children After Parental Death: Guidelines for Primary Care Providers
Primary care providers are important points of contact and support for children after parental loss.
Click HERE to access fact sheet
The Army Study to assess risk and resilience in service members (Army STARRS) – Robert Ursano
ECNP Traumatic Stress Network Virtual Meeting "Hot topics" (4 June 2021) with Robert Ursano, Professor of Psychiatry and Neuroscience at the Uniformed Services University, Bethesda, Maryland, USA. This meeting was chaired by Joseph Zohar, Israel, Eric Vermetten, The Netherlands and Iryna Frankova, Ukraine. The meeting was dedicated to the precision psychiatry, concept of "Golden Hours", psychosocial and psychotherapeutic treatment of PTSD.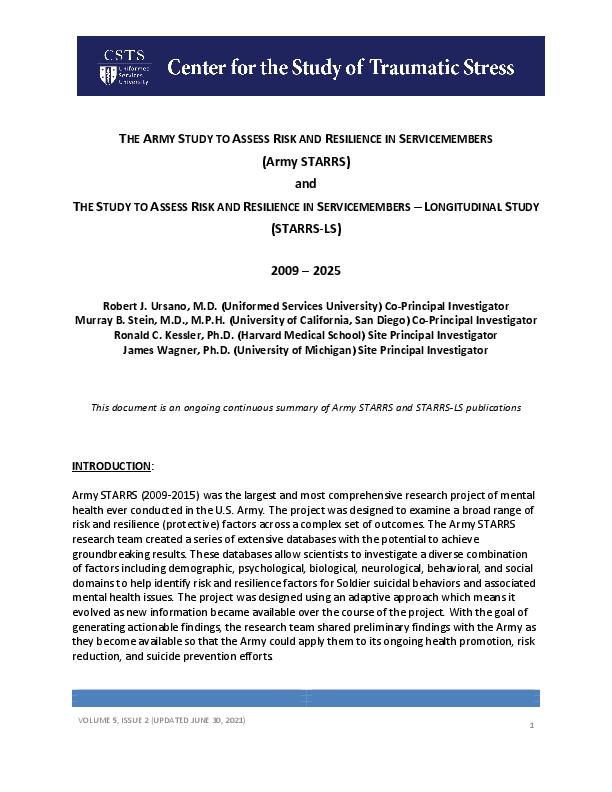 Army STARRS: Volume 5, Issue 2, Updated June 30, 2021
This document is an ongoing continuous summary of Army STARRS and STARRS-LS publications. Army STARRS (2009-2015) was the largest and most comprehensive research project of mental health among U.S. Army Soldiers ever conducted. The project was designed to examine a broad range of risk and resilience (protective) factors across a complex set of outcomes including suicidal behaviors and associated mental health issues. Army STARRS scientists created a series of large and extensive databases with the potential to achieve groundbreaking results. These databases allow scientists to investigate a diverse combination of factors from demographic, psychological, biological, neurological, behavioral, and social domains with the goal of generating actionable findings for the Army. The project was designed using an adaptive approach which means it evolved as new information became available over the course of the project. The research team shared preliminary findings, as they became available, with senior Army leadership so the Army could apply them to its ongoing health promotion, risk reduction, and suicide prevention efforts. The work is continuing under the STARRS Longitudinal Study (STARRS-LS) which runs from 2015 to 2020.
CSTS 2020 Annual Report Available
Immediately available for viewing is the 2020 CSTS Annual Report. In this comprehensive report, you can read summaries of the Center's work in responding to the mental health effects of the COVID-19 pandemic, as well as our continuing work in both military and civilian populations to enhance psychological health, speed the recovery from, and help prevent the negative consequences of trauma on individuals, families, communities, and the nation.
Click HERE for the 2020 CSTS Summary Report