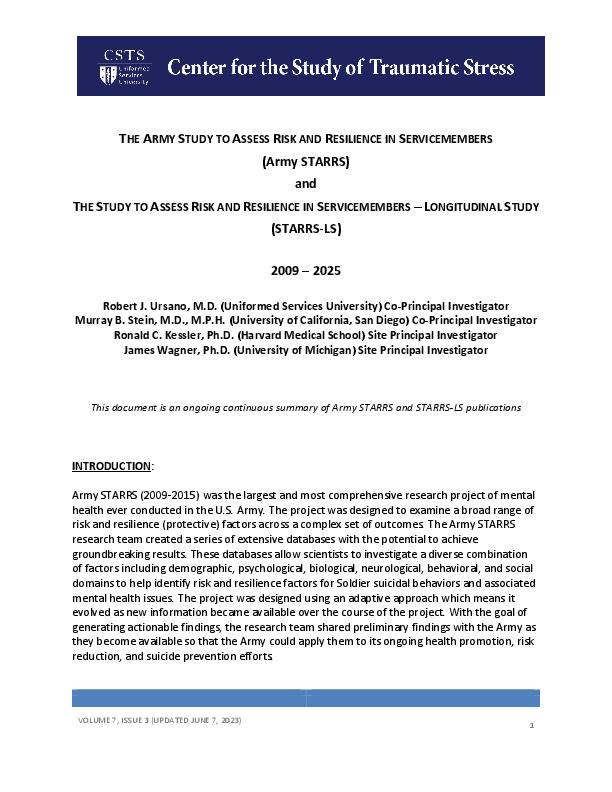 Army STARRS: Volume 7 Issue 3, Updated June 7, 2023
This document is an ongoing continuous summary of Army STARRS and STARRS-LS publications. STARRS/STARRS LS (2009 - present) is the largest and most comprehensive research project of mental health among U.S. Army Soldiers ever conducted. The project was designed to examine a broad range of risk and resilience (protective) factors across a complex set of outcomes including suicidal behaviors and associated mental health issues. Army STARRS scientists created a series of large and extensive databases with the potential to achieve groundbreaking results. These databases allow scientists to investigate a diverse combination of factors from demographic, psychological, biological, neurological, behavioral, and social domains with the goal of generating actionable findings for the Army. The project was designed using an adaptive approach which means it evolved as new information became available over the course of the project. The research team shared preliminary findings, as they became available, with senior Army leadership so the Army could apply them to its ongoing health promotion, risk reduction, and suicide prevention efforts. The work is continuing under the STARRS Longitudinal Study (STARRS-LS) which runs from 2015 to 2025.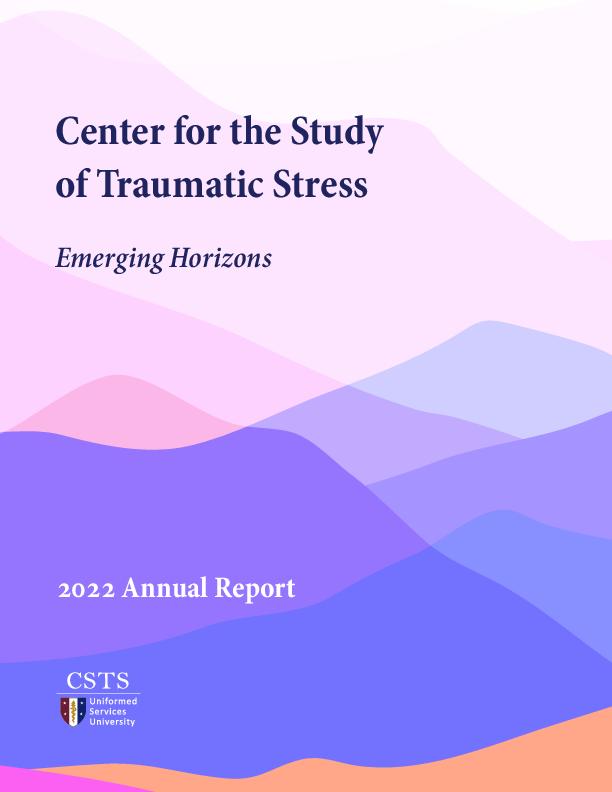 CSTS 2022 Annual Report
Immediately available for viewing is the 2022 CSTS Annual Report. In this comprehensive report, you can read summaries of the Center's work in responding to the mental health effects of the COVID-19 pandemic, as well as our continuing work in both military and civilian populations to enhance psychological health, speed the recovery from, and help prevent the negative consequences of trauma on individuals, families, communities, and the nation.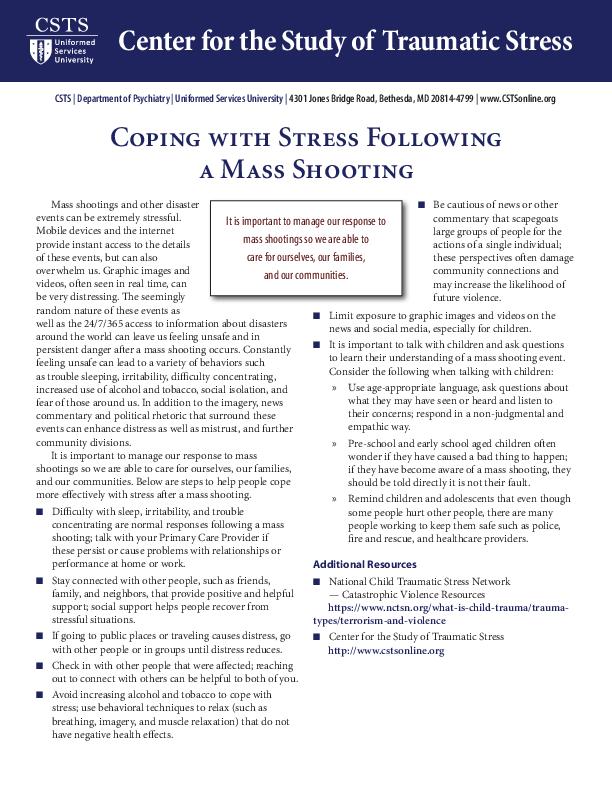 COVENANT SCHOOL SHOOTINGS: MENTAL HEALTH RESOURCES TO SUPPORT COMMUNITY RECOVERY
Acts of mass violence, such as the shootings at the Covenant School in Nashville, Tennessee cause extreme disruption within communities. Acts of violence against children are particularly distressing, and their occurrence at locations that are often thought of as safe havens, such as schools, further undermine feelings of safety within a community. Victims, family, friends, first responders, emergency personnel, and community leaders are among those affected. Caring for the mental health needs of communities and promoting resilience and recovery requires prompt interventions by educating people on common responses to trauma and the ways this may look different in children, providing guidance on actions to foster individual and family well-being, and ensuring access to timely resources and care when needed.
Please click HERE for a resources