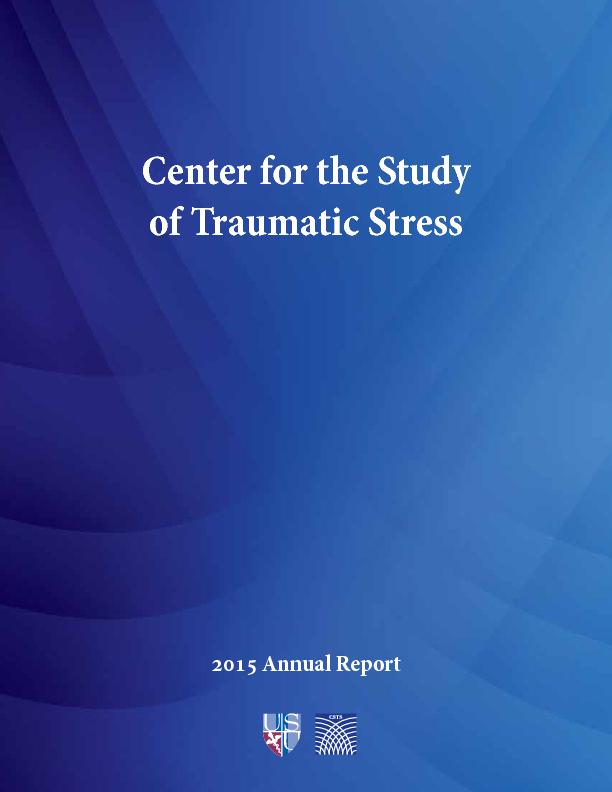 CSTS 2015 Annual Report
The Center for the Study of Traumatic Stress (CSTS) 2015 Annual Report is available for download. The Report includes an interactive table of contents and provides a summary of our research, training, education, consultation and other activities and accomplishments throughout the calendar year. The Report also includes a compilation of our publications, briefings, interviews and awards, as well as listings of our personnel and partnerships.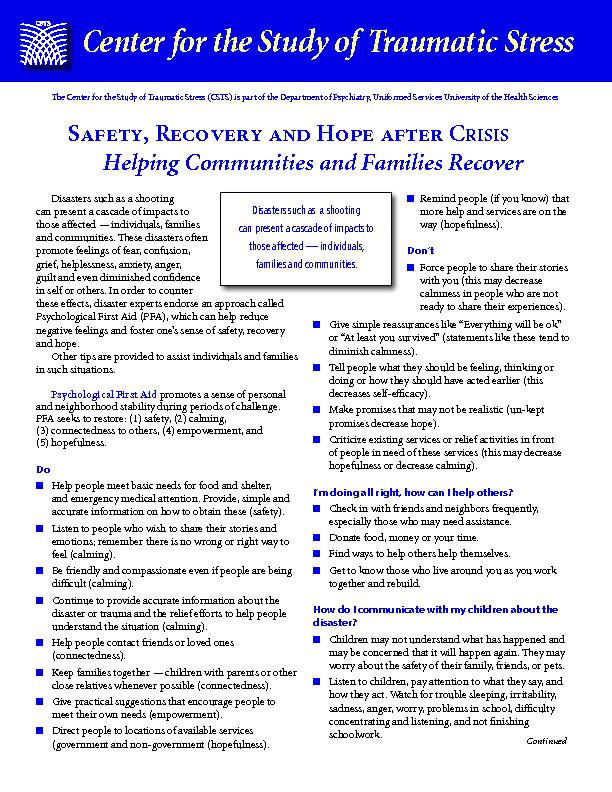 Orlando Tragedy
Mass shootings can be extremely disruptive and traumatic events. In response to recent tragedy at the Pulse Nightclub in Orlando, Florida, the Center for the Study of Traumatic Stress has developed several brief, educational fact sheets. They provide victims, families, community members, and leaders with guidance on enhancing self-care and optimizing well-being in the aftermath of a mass shooting event.
Leadership Communication: Anticipating and Responding to Stressful Events
Funerals and Memorials A Part of Recovery
Leadership in the Wake of Tragedy
Psychological First Aid: How You Can Support Well-Being in Disaster Victims
Recovery After Witnessing a Traumatic Event
Restoring a Sense of Well-Being in Children After a Disaster  Tips for Parents, Caregivers and Professionals 
Safety, Recovery and Hope after CRISIS Helping Communities and Families Recover
Coping with Stress Following  a Mass Shooting
Preparing, Responding and Coping with the Stress of Mass Shootings

Risk Factors, Methods, and Timing
Suicide attempts in the US Army have risen in the past decade. Understanding the association between suicide attempts and deployment, as well as method and timing of suicide attempts, can assist in developing interventions. This paper examines suicide attempt risk factors, methods, and timing among soldiers currently deployed, previously deployed, and never deployed. The results indicate that identifying the timing and risk factors for suicide attempt in soldiers requires consideration of environmental context, individual characteristics, and mental health. These factors can inform prevention efforts.
Artiss Symposium 2016
The Center is a sponsoring partner for the annual Artiss Symposium. Kenneth L. Artiss, MD (1913–2001), the namesake of the symposium, was an Army officer, a research psychiatrist and instructor at the former Walter Reed Army Medical Center who inspired generations of military psychiatry residents to conduct high quality research. This year's symposium, titled "Understanding the Patients' Experience: Beyond the Diagnosis" will be held on June 1, 2016, from 0800-1600 at the National Intrepid Center of Excellence which is adjacent to the Walter Reed National Military Medical Center in Bethesda, Maryland. On site registration is free and Continuing Education credits will be offered.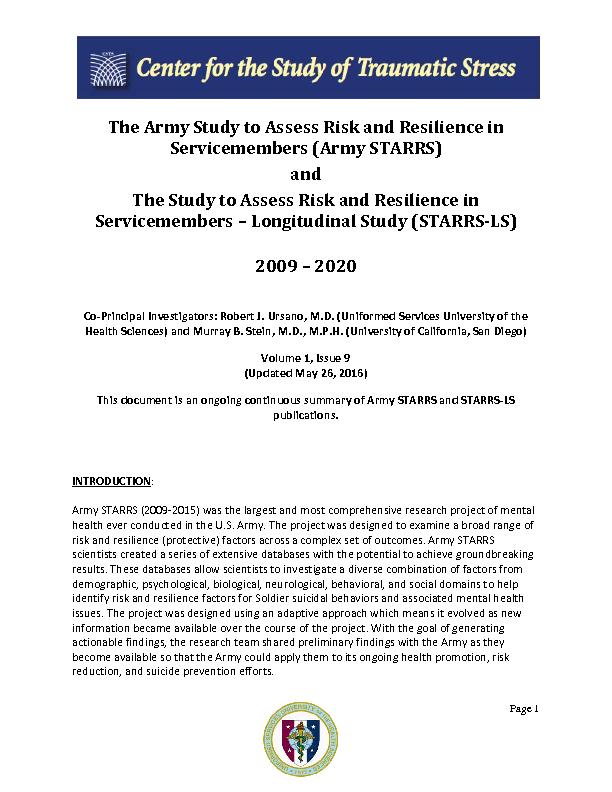 Army STARRS Issue 9 Updated May 26, 2016
Army STARRS (2009-2015) was the largest and most comprehensive research project of mental health ever conducted in the U.S. Army. The project was designed to examine a broad range of risk and resilience (protective) factors across a complex set of outcomes. Army STARRS scientists created a series of extensive databases with the potential to achieve groundbreaking results. These databases allow scientists to investigate a diverse combination of factors from demographic, psychological, biological, neurological, behavioral, and social domains to help identify risk and resilience factors for Soldier suicidal behaviors and associated mental health issues. The project was designed using an adaptive approach which means it evolved as new information became available over the course of the project. With the goal of generating actionable findings, the research team shared preliminary findings with the Army as they become available so that the Army could apply them to its ongoing health promotion, risk reduction, and suicide prevention efforts.