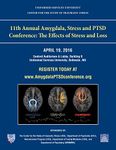 The 11th Annual Amygdala PTSD Conference: The Effects of Stress and Loss
The 11th Annual Amygdala, Stress and PTSD Conference: The Effects of Stress and Loss, sponsored by the Center for the Study of Traumatic Stress, is open for registration.  For more information and to register, please visit the conference website at www.amygdalaPTSDconference.org
Article: Identification With Terrorist Victims of the Washington, DC Sniper Attacks: Posttraumatic Stress and Depression
Herberman Mash HB, Ursano RJ, Benevides KN, Fullerton CS.
Journal of Traumatic Stress. January 2016. Available online ahead of print. 
ABSTRACT
In October 2002, a series of sniper attacks in the Washington, DC area left 10 people dead and 3 wounded. We examined the association between identification with terrorist victims and psychological and behavioral outcomes. Participants were 1,238 residents of the Washington, DC area (ages 18-90 years; M = 41.73, SD = 12.56) who completed the Impact of Event Scale-Revised, Patient Health Questionnaire-9, and items pertaining to identification with attack victims approximately 3 weeks following the first sniper shooting. We examined 3 types of identification with the victims: (a) as like oneself, (b) as like a friend, and (c) as like a family member.
[more]
PTSD Brain Bank News Spot
News9.com - Oklahoma City, OK - News, Weather, Video and Sports
The Uniformed Services University and Veteran's Administration have partnered to open the national PTSD Brain Bank, where researchers will investigate the impact of stress, trauma and PTSD on brain tissue. This work is being conducted in order to advance the scientific knowledge of PTSD, particularly the identification of PTSD biomarkers. Recent media coverage of the Brain Bank, it's relevance and potential impacts can be found here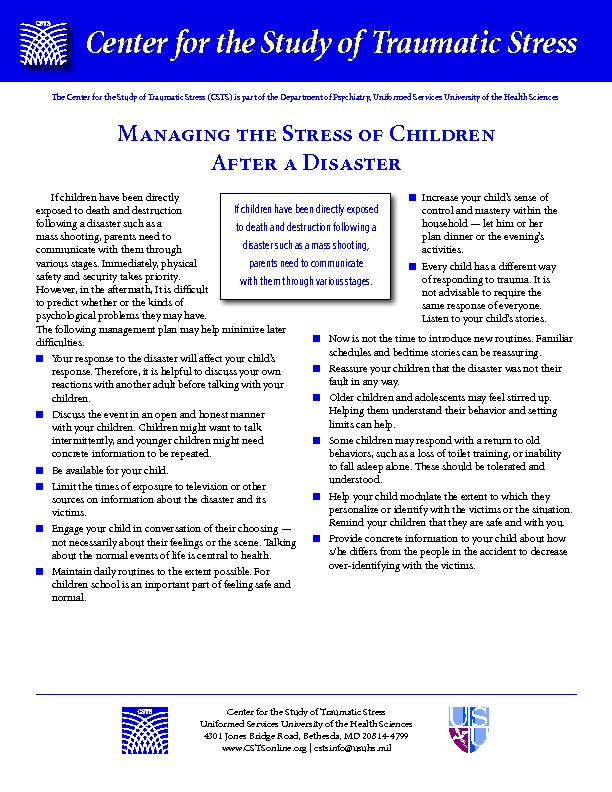 San Bernardino shootings
Mass shootings can be extremely disruptive and traumatic events. In response to recent tragedy at Inland Regional Center in San Bernadino, California, the Center for the Study of Traumatic Stress has developed several brief, educational fact sheets. They provide victims, families, community members, and leaders with guidance on enhancing self-care and optimizing well-being in the aftermath of a mass shooting event. [more]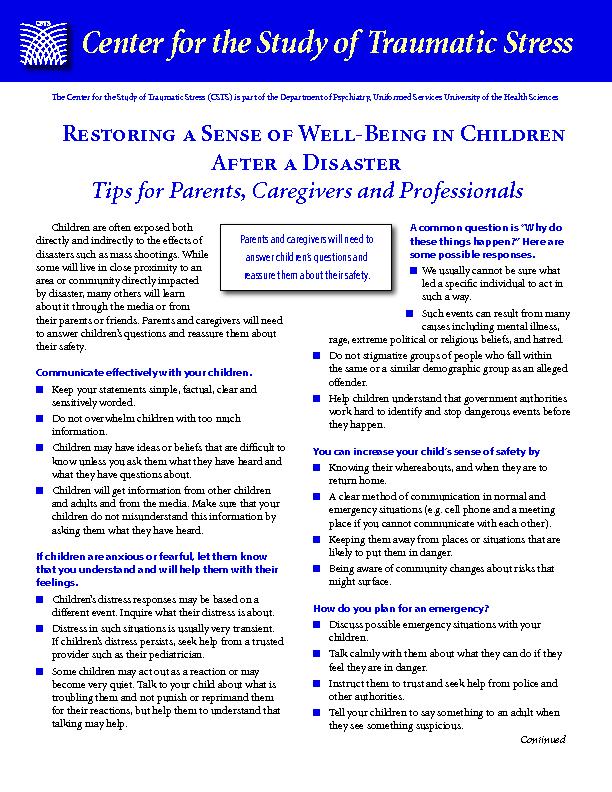 Resources to support those impacted by the school shooting in Oregon
A disaster community spans many miles beyond the actual location of the event. In response to the tragic shootings at Umpqua Community College in Oregon, the Center for the Study of Traumatic Stress has developed several brief, educational fact sheets. They provide victims, families, community members, and leaders with guidance on enhancing self-care and optimizing well-being in the aftermath of a mass school shooting. [more]